Euro foam LTD
Address: Bothar na Minne, Ballybane, Galway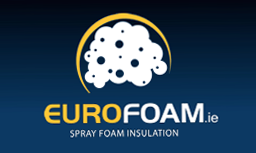 EuroFoam is a spray applied foam insulation, made in Europe and is EU certified. It is an environmentally friendly solution for insulation in your home, which does not emit anything good or bad making it completely safe.
By insulating your home with EuroFoam you can reduce your home heating bills, reduce your Co2 Carbon Footprint, and improve the BER of your home. You are also making your home "airtight" which will prevent infiltration of unwanted cool & hot air from the outside.
Brusna Energy Solutions
Address: Stokane, Enniscrone, County Sligo, Ireland

Brusna Energy Solutions are one of Irelands most innovative companies, offering supply and fit services and products which successfully increase energy savings of domestic, commercial and agri shed buildings. Established in Ireland in 2007,we have become experts in the installation of Spray Foam Insulation for attics, dormers, timber frame structures, along with commercial structures, and Wall Insulation. At Brusna Energy Solutions, we offer a fully comprehensive technical support package.