A breathable vent card is a card that is permeable to water yet strong and rigid enough to support the insulation. It is also required to maintain a 50mm air gap between the roofing felt and insulation or membrane to allow water vapour to leave your building, so it must be long lasting.
Is an air gap required under Irish building regulations?
A breathable vent card to require by irish building regulations. "B.5.2.1R2(a) Insulation between and below rafters, 50 mm ventilated cavity between insulation and breathable membrane" 2019 Part L Building Regs
How is a 50mm air gap created with a breathable vent card?
The breathable vent card is placed in between your attic or loft rafters 50mm from the roofing felt, to allow water vapour to escape the structure. This is to prevent the buildup of harmful damp and mold to accumulate in the attic or loft. Water vapour is built up in any structure where humans breathe, sweat, shower or cook.
Do I need a breathable vent card if my roof is counter battened?
Counter battened roofs do not require a breathable vent card as an air gap is maintained on the outer side of the roofing felt. This means that the spray foam can be applied directly on the roofing felt. Always remember to ask your contractor to make sure that your roof has an air gap as damp and mold can damage your heatly and root wood of it is allowed to build up in your attic or loft.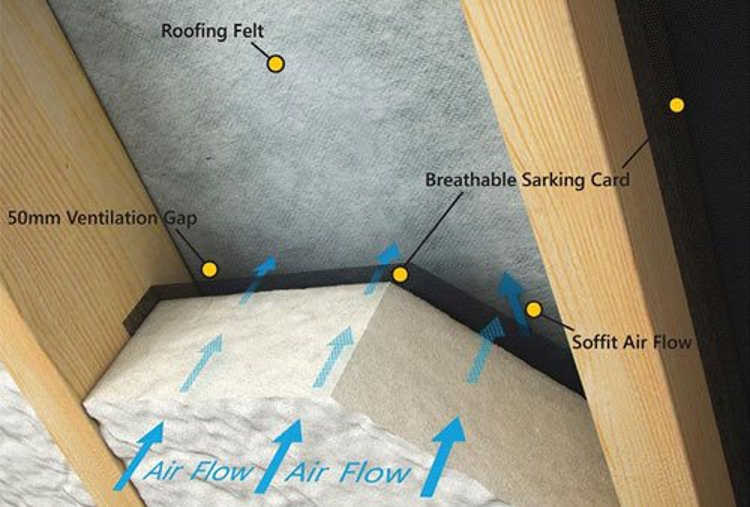 CPI's Unique

Breathable Vent Card

CPI foam have developed the breathable vent card system to meet Irish building regulations requirement that a 50mm air gap be maintained between the roofing deck or felt and the insulation material.

Open cell spray foam insulation is the best for or insulation to be used in a residential building as open cell foam is 'breathable' allowing moisture to escape the building while maintaining a airtight seal.
NSAI Agrément Certified Fully Breathable System
Better fire rating than any other comparable Open Cell spray foam made in Europe passed EN 13501-1 : (Bs1d0)
Insulation and perfect air seal in a single application.
Water blown formula Lower u value 0.0376 W/m2K
Seven times better air seal compared with traditional insulation.
Elimination of unplanned air-borne moisture movement and related condensation.
Energy savings of about 50% compared with conventional insulation.
Non Toxic product.