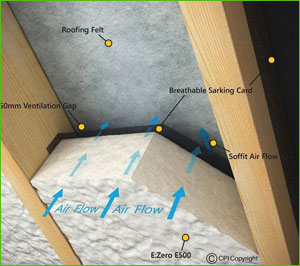 CPI foam have developed the breathable vent card system to meet Irish building regulations requirement that a 50mm air gap be maintained between the roofing deck or felt and the insulation material.
The reasoning behind the regulation is simple, escaping water vapour needs to be allowed to leave your building passing through the insulation into the air gap and then to the outside air.
If you roof is counter battened then the foam can be sprayed directly on the felt as the air gap is maintained between the battens and the roof slates or tiles.
Open cell spray foam insulation is the best for or insulation to be used in a residential building as open cell foam is 'breathable' allowing moisture to escape the building while maintaining a airtight seal.
NSAI Agrément Certified Fully Breathable System
Better fire rating than any other comparable Open Cell spray foam made in Europe passed EN 13501-1 : (Bs1d0)
Insulation and perfect air seal in a single application.
Water blown formula Lower u value 0.0376 W/m2K
Seven times better air seal compared with traditional insulation.
Elimination of unplanned air-borne moisture movement and related condensation.
Energy savings of about 50% compared with conventional insulation.
Non Toxic product.
E:500 soft spray insulation foam can be applied anywhere fiberglass was traditionally installed. By replacing fiberglass, home owners get to enjoy improved energy efficiency and greater comfort of spray foam, while avoiding the shortfalls of fiberglass, from its carcinogenic nature to mold susceptibility. Please refer to NSAI Agrément Cert for further information before installation.
---